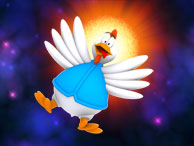 The aim of the Open Translation Project is to make InterAction studios games available in your favourite language. Unfortunately, only a few of the chickens we employ are multi-lingual, and those that do speak a second language mostly write in chicken scrawls, making it very hard for us to decipher their translations. So, we need your help.
If you're interested in translating one of our games into your native language, please fill in this form. We'll compile your preferences into the most popular languages and arrange for their translations in order of priority.
All languages are equally welcome. The only thing we ask is that you must translate to your first (native) language. We're also offering a special mention in the game credits as well as free registration for 3 games of your choice!
Just so you know what to expect, the in-game text consists of about 500-1000 phrases in the following form:
LANGUAGE_( CONFIRM , "Are you sure?" )
LANGUAGE_( YES , "Yes" )
LANGUAGE_( NO , "No" )
LANGUAGE_( SAVETHEWORLD , "Save the World" )
LANGUAGE_( HALLOFFAME , "Hall of Fame" )
LANGUAGE_( OPTIONSDOTS , "Options..." )
LANGUAGE_( INTRO11 , "Episode III" )
LANGUAGE_( INTRO21 , "Chickens." )
LANGUAGE_( INTRO22 , "For centuries we have oppressed them," )
LANGUAGE_( INTRO23 , "grilling, roasting, stewing, and stuffing them in buns." )
LANGUAGE_( INTRO24 , "We should have known the time would come for us to pay." )
LANGUAGE_( INTRO25 , "And it did." )
etc.
Small print: Places are limited and not everyone will be selected. You will only be contacted if you are selected. Decisions are final and no correspondence shall be entered into. Your details are confidential and will not be made public and will not be shared with any party whatsoever. Ever.